31 May
0 Comment(s)
7289 View(s)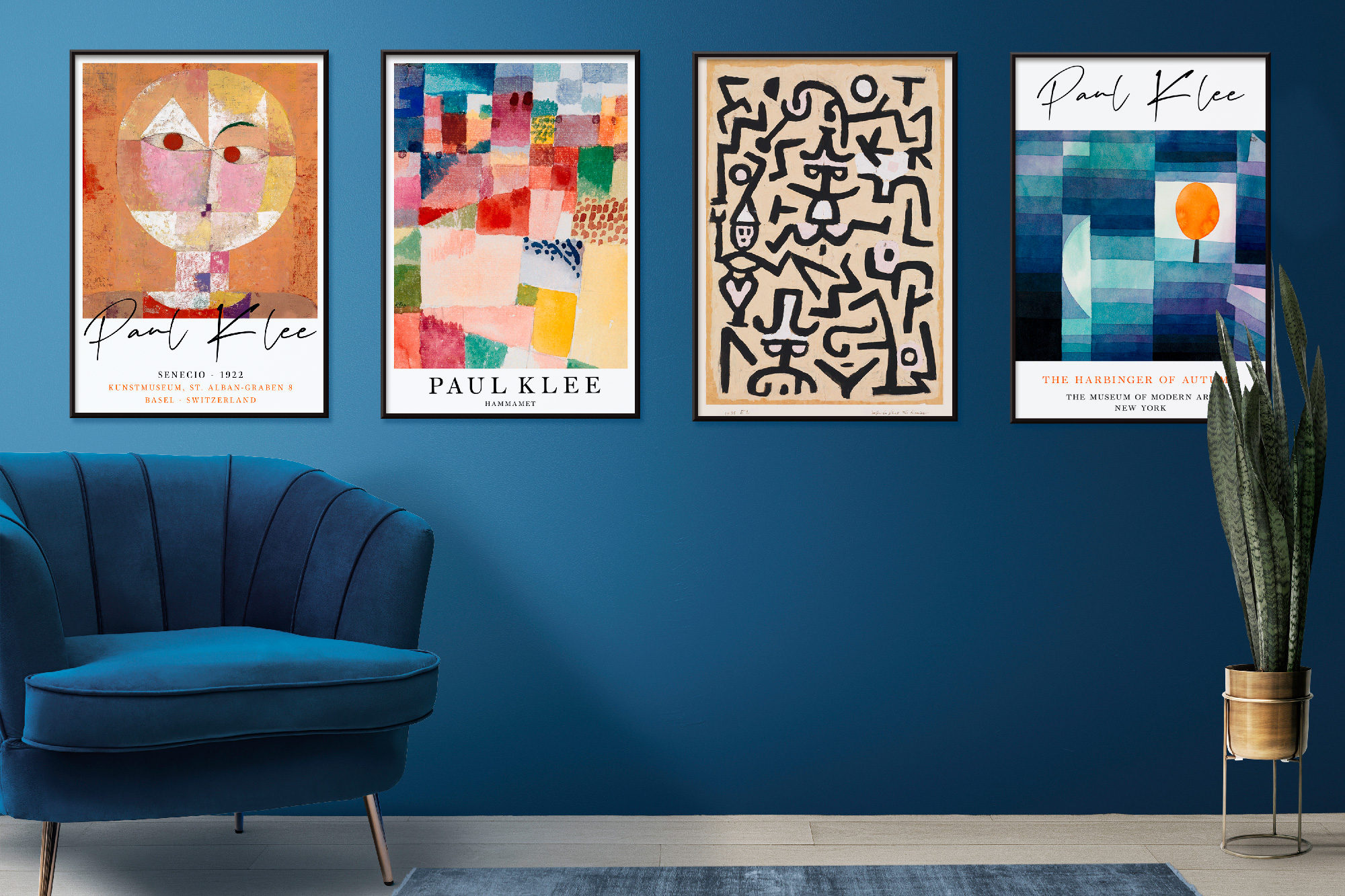 Paul Klee (1879 - 1940)
Painter, born in Switzerland, having lived all his life in Germany.
Paul Klee's works can appear naive, abstract, almost childish in their colors and simplicity. But it would be very simplistic to categorize this innovative painter, also a musician, professor and theoretician of modern art. To better understand and appreciate his works that we love at Moryarty, we offer you our reading of his work.
Musician, then visual artist
Born into a family of artists (his mother is a singer, his father a musician and teacher at the Bern National Conservatory in Switzerland), the young Paul was always steeped in musical culture, and as a child, played the violin. However, it was towards studies in the plastic arts that he headed, in 1898 in Germany. He marries Lily Stumpf, also a musician. They moved to Munich together. It even seems that Paul Klee used to systematically play the violin before starting a painting session! Two strongly linked arts, which enrich each other.
At the beginnings of abstract art
In Munich, he discovered the work of post-impressionist painters (Van Gogh, Cézanne) and avant-garde expressionist artists (members of the Blaue Reiter, among them Kandinsky) who influenced and inspired him. These link art and spirituality, which appeals to Klee.
Travel colors
His travels to Italy and France, then before the War, to Tunisia, opened his eyes to new colors, new emotions. We can find this wonder for Tunisian light and tones in his painting "Hammamet". His patchworks of dazzling colors are also present in his abstract paintings, (May Picture, Color Patchwork...) and in his delicate and colorful watercolors (including the cubist Trois Maisons, with magnificent ranges of blue).
Between reality and imagination
Paul Klee's works are full of symbolism, mystique and magic. He is passionate about nature, which he transforms with his gaze. He shows it sometimes geometric, sometimes organic, sometimes fantasized, suggested, imaginary. For him, art is a path towards a truth: "Art does not reproduce the visible, it makes visible. " he said.
More than a joke
Moreover, he likes to play with representations, and invite his spectators to make an effort. Have you noticed that the titles of his works are sometimes dissonant? At first glance, we do not necessarily understand the link between the title and what is represented. This border between readable and hidden is desired! Paul Klee is full of irony. He likes to play with the abstract, to offer "simple" but meaningful paintings, which deconstruct visual habits, and offer different readings and interpretations. He pushes the public to concentrate, to go beyond the surface, to seek, to reveal his reality, which is not offered on a stage.
Following the war, Klee taught art theory at the Bauhaus, with Kandinsky, in particular. His work is strongly contested by the Germans who call him a "degenerate artist". He returned to settle in Switzerland, where he ended his days, following an illness, in 1940.
The sometimes childish motifs, the flat areas of color that inhabit the paintings of Paul Klee, can mislead as to the complexity of the painter. A truth that reveals itself by digging a little, as he wished!
How to benefit from Paul Klee museum quality posters?
Giving a Paul Klee poster to someone you love is a surprising gift, which promises great discoveries!
Where to display it, at home?
In a minimalist and modern interior, which will appreciate being warmed by color. In the bedroom, the dining room, the office or the workspace, for an opening towards nature.